Three Events at Sotheby's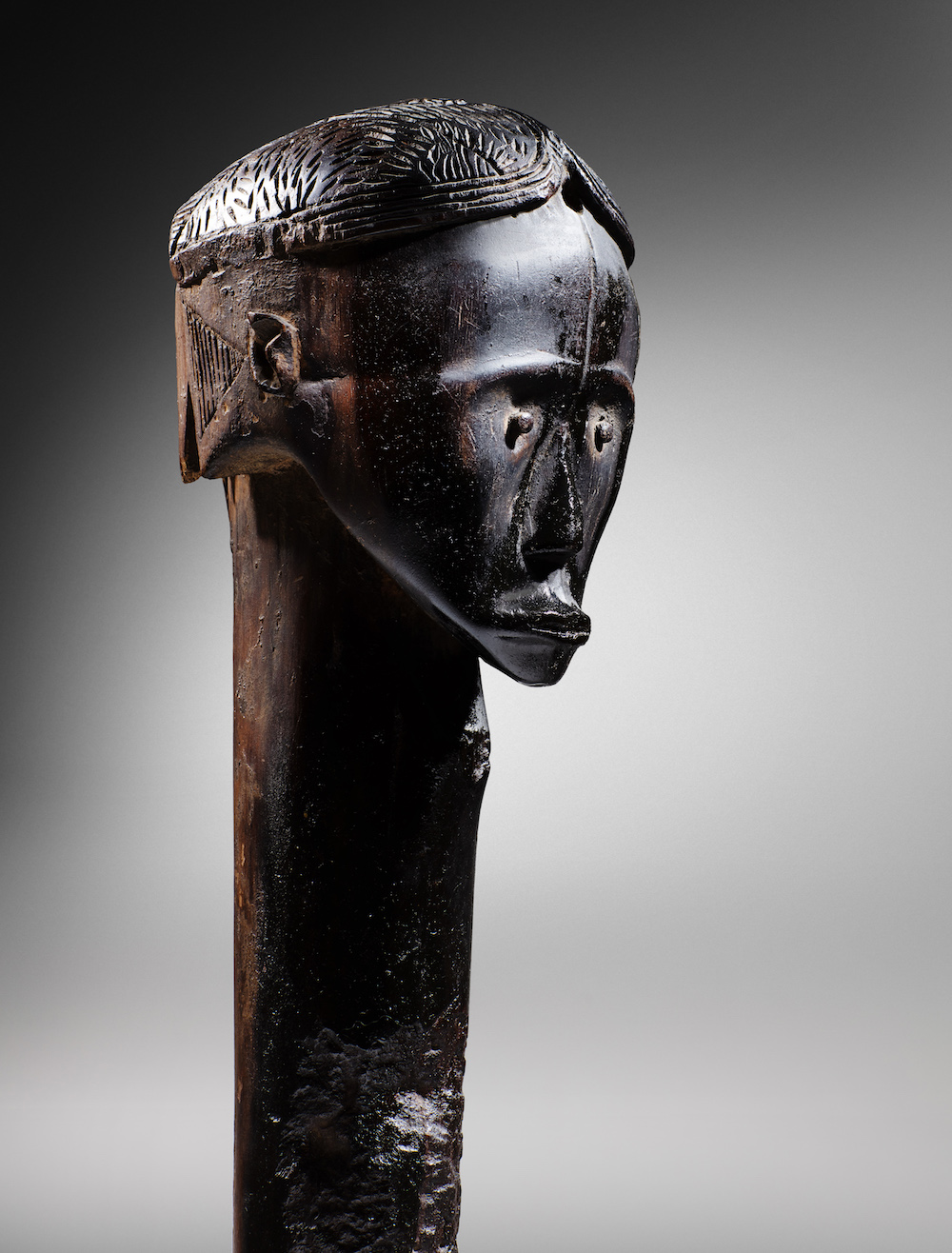 ABOVE: Reliquary guardian head. Fang; Gabon.
Wood. H: 45.5 cm.
Ex Helena Rubinstein, Princess Gourielli, New York, Paris, and  London; Parke-Bernet Galleries, The Helena Rubinstein Collection, New York, 21 April 1966, lot 215; Hélène and Philippe Leloup, Paris.
To be offered by Sotheby's, Paris, 21 June 2023
Estimate on demand.


PARIS—The atmosphere at Sotheby's Paris promises to be feverish as we head into the summer season, and collectors will be keeping a close eye on the many activities that will be taking place there. Three sales, all important ones, will be held in June and July of 2023.  

The first of these auctions is scheduled for June 5 and will feature more than forty lots from the ­Michel Lequesne collection. Put together by Lequesne, a physician and enlightened aesthete, with the help of his wife, Natasha, this collection is, like the sale itself, composed of two parts. One brings together paintings by renowned contemporary artists such as ­Poliakoff, Dubuffet, Riopelle, and Vieira da Silva, to name but a few. It bears witness to the taste of a specific period. The second part of the collection is made up of artworks from Africa and Oceania and evinces a sensibility for the rendering of the body and the richness of the vocabulary of sculptural solutions displayed by these sculptures, which relate formally to the artistic language of Western modernity. Among the almost twenty pieces from collection are a touching Bioma figure from Papua New Guinea, a large figure from Cameroon that attests to Lequesne's audacious eye, and, above all, a beautiful male Bamana figure from Mali associated with the Jo and Gwan ceremonies, wearing the characteristic helmet reserved for hunters and sorcerers, and holding a bell to his chest with both hands.

The second event, scheduled for June 21, promises to be an especially memorable one. After the most important lots have completed an international tour and have been presented to the Parisian public at the Sotheby's 76 rue du Faubourg-Saint-Honoré location from June 16–20, the auction house will host the first of two sales devoted to the personal collection of dealer, expert, researcher, and field collector Hélène Leloup, who was all these things in a world ­overwhelmingly dominated by men! Her name is intimately associated with the promotion of the African and Oceanic art, and particularly with that of the Dogon area in Mali, which she visited on many occasions and, to honor the latter, she created both exhibitions and reference publications. She was a true pioneer, as the title of the sale suggests: Collection Hélène Leloup. Le journal d'une pionnière – Volume 1 (Hélène Leloup Collection, Diary of a Pioneer – Volume 1), and her name is synonymous with quality works, an unerring eye, and rigorous and independent judgment. After a first trip to Africa in 1952, when she was barely twenty-five years old, she opened a gallery in Paris with her first husband, Henri Kamer, before crossing the Atlantic and opening a second gallery in New York in the early 1960s, followed by a third in Palm Beach in 1967. Leloup was driven by a boundless passion for the arts and a fiery temperament, and throughout her career she was able, like very few others, to gain the confidence of the most important antique dealers, collectors, and museum curators of the time. She was an active participant in the building of major collections, such as those of Rockefeller, ­Tishman, and the Musée du Quai Branly – Jacques Chirac. She also organized exhibitions and events such as Ancêtres M'bembe in New York in 1974, to name but one example, and so became the key figure in the world of African and Oceanic art that she still remains today, at the age of ninety-six. It is impossible to summarize Leloup's career in a few lines, and it also is difficult to fully grasp how significant her personal collection truly is. Given that, it is easy to understand that ­Sotheby's has elected to present it in two phases, one in June in Paris and the other in New York in early 2024. Made up of some sixty lots, the summer sale will include modern and contemporary art by Francis Bacon and Louise ­Bourgeois but, above all, will showcase ­Leloup's passion for African art. Among the pieces that certainly will attract attention will be terracotta objects from Mali, fine Dogon figures representative of several styles and, the highlight of the sale, the emblematic Fang head from the Helena Rubinstein collection that was recently seen at the 2019 exhibition organized by the Musée du Quai Branly – Jacques Chirac about another "Helena," who also was a pioneer in the promotion of beauty with the luxury cosmetics empire that still bears her name.

Finally, on July 11, an online sale will commemorate the passion for the arts of Oceania of gallery owner, collector, and great lover of the South Seas Marc de Monbrison, who sadly passed away much too young in 1985. Comprised of nearly sixty lots, the selection of works that will be offered is associated with some of the most highly regarded provenances in the field, including James Hooper, Béla Hein, Jacques ­Kerchache, and André Breton. Sotheby's states that an impressive Hawaiian necklace, a Fiji Islands gugu club that was featured in the Vision d'Océanie exhibition at the Musée Dapper in 1992, and an Easter Island ua club acquired by James Hooper in 1930 from an English museum will be among the sale's highlights.




Michel Lequesne Collection
June 5, 2023

Collection Hélène Leloup. Le journal d'une pionnière – Volume 1
June 21, 2023

Provenances
July 11, 2023
Sotheby's, Paris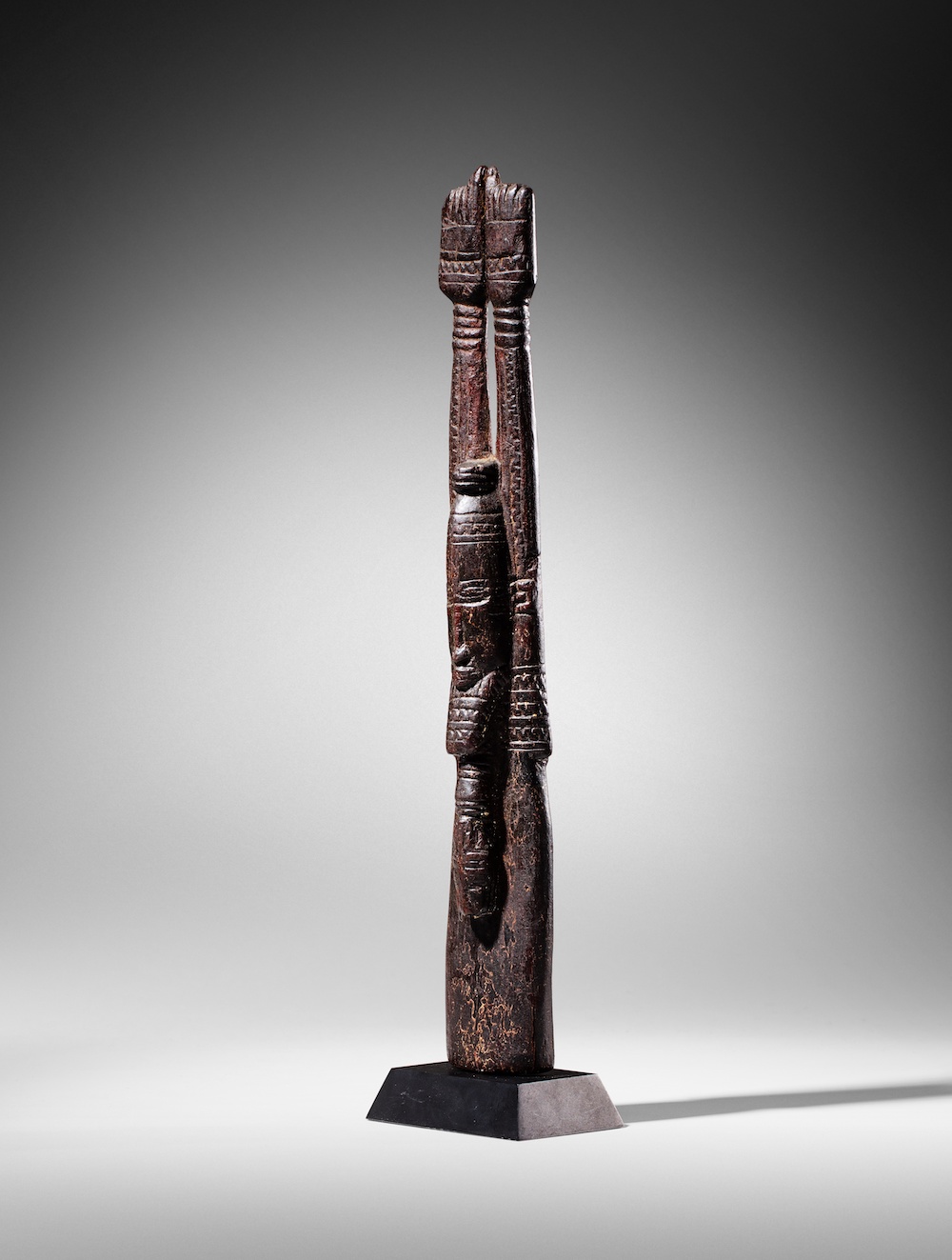 ABOVE: Figure with raised arms. Djennenké; Mali.
Wood. H: 41.5 cm.
Ex Hélène Leloup, Paris.
To be offered by Sotheby's, Paris, 21 June 2023.
Est. 250,000–350,000 euros.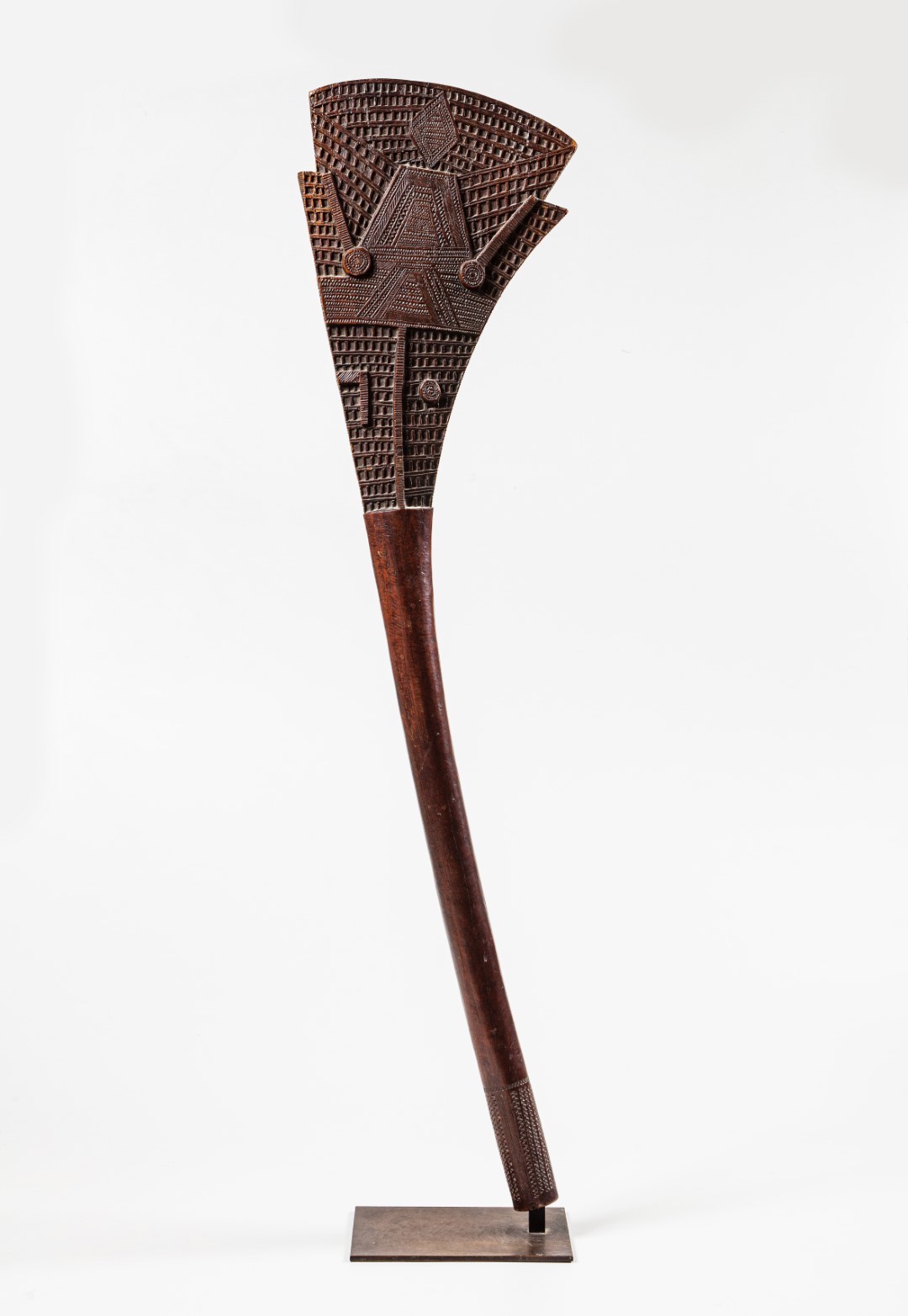 ABOVE: Club, gugu. Fiji Islands.
Wood. L:  111 cm.
Ex Marc de Monbrison.
To be offered by Sotheby's, Paris, in an online sale, 11 July 2023.
Est. 35,000–45,000 euros.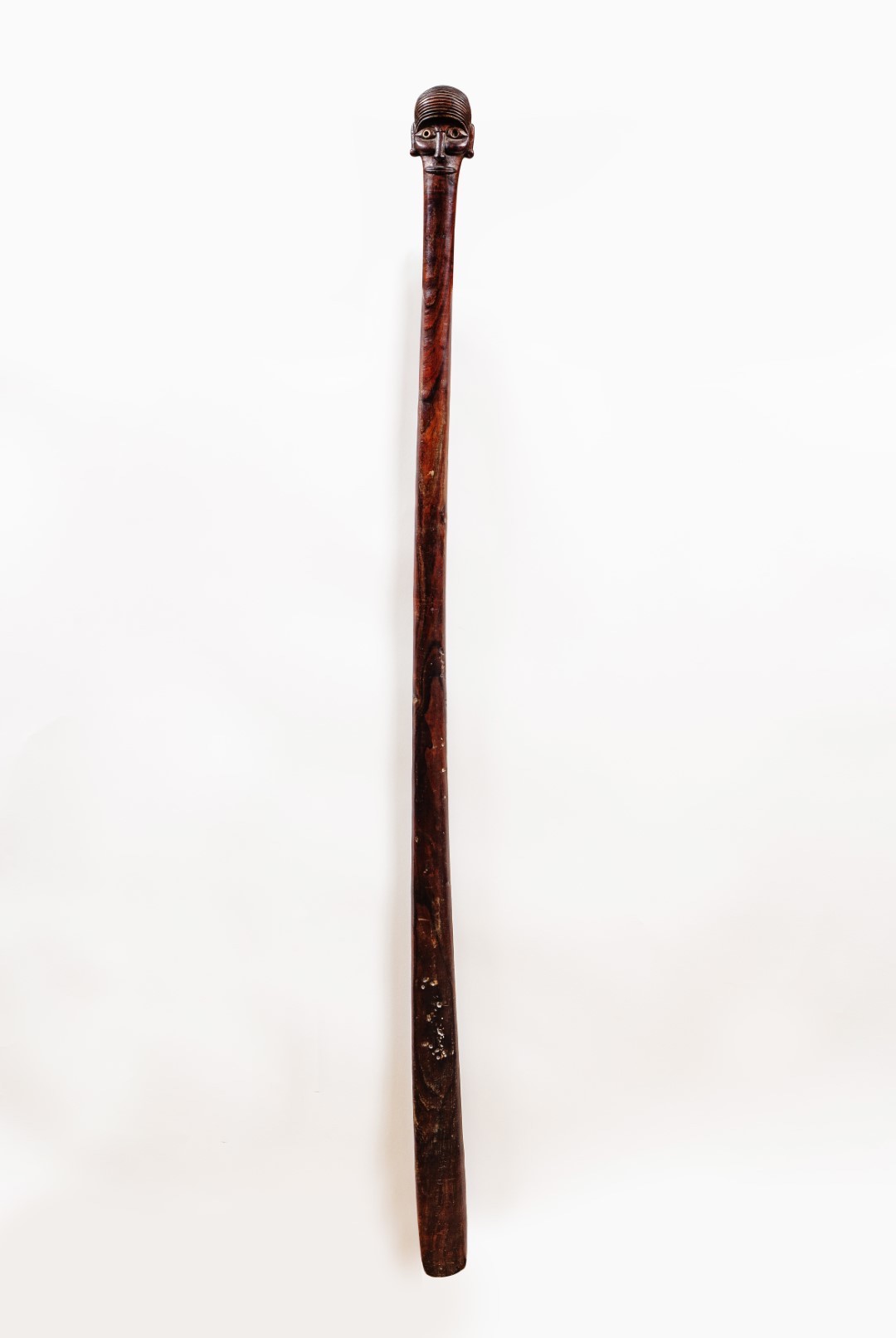 ABOVE: Ceremonial staff, ua. Easter Island.
Wood.
Ex Butler Museum, Harrow, 1904; James Hooper (before 1930); Marc de Monbrison.
To be offered by Sotheby's, Paris, in an online sale, 11 July 2023.
Est. 25,000–35,000 euros.