The Maine Durieu Collection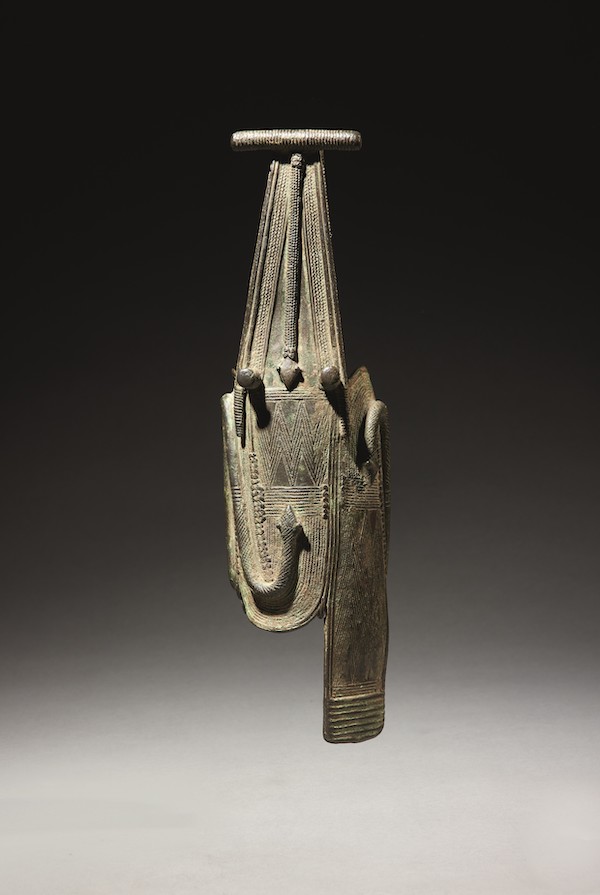 ABOVE: Important bracelet. Gan, Burkina Faso. Bronze. H. 30,5 cm - lot 116 - est. 30.000 - 50.000 EUR - Collection Maine Durieu, Binoche et Giquello, Paris
PARIS—Binoche et Giquello will be offering the collection of a grande dame of the African art scene on November
25, 2021, and Charles-Wesley Hourdé and Nicolas Rolland will be the experts for the sale.
The lady of the hour is, of course, the late Maine Durieu, a gallery owner deeply respected by all who knew her for her sensitivity and for her love and appreciation of simple objects—metal objects from Burkina Faso were her great passion—as well as for her uncompromising and independent taste and her work ethic. As a dealer, Durieu was above all a true enthusiast of the African continent, and particularly of its western regions through which she had travelled extensively. The auction will be a vivid refl ection of her taste, and it will include many lots that are modest in appearance (and in price) but are full of spirit and soul.

These represent an opportunity for beginning collectors looking for a way to make acquisitions of African art with confidence, and a chance for anyone to retain a part of Durieu's vision.
Binoche et Giquello, Paris
ABOVE: Statue, Dogon, Mali. Bois and bronze. H. 30,5 cm - lot 116 - Est. 3.000 - 5.000 EUR - Collection Maine Durieu, Binoche et Giquello, Paris