ABOVE : Queen mother pendant mask, iyoba. Edo; Court of Benin, Nigeria. 16th century.

The Michael C. Rockefeller Wing at The Metropolitan Museum of Art in New York recently closed for major renovations. It is due to reopen in 2021, but this doesn't mean that the museum's remarkable collection of African art will be asent from its galleries. Taking a page from the creative installation of the magnificent Diker collection of traditional Native American art in the American Wing, chich until then had been devoted to Euro-American works, African artworks are planned to appear from time to time within the contect of galleries typically devoted to other fields.
The first iteration of this plan opened on December 14, 2021, in one of the museum's galleries devoted to the art of ancient Egypt. A long-term installation, it features forty-two artworks, twenty-one Egyptian and twenti-one Sub-Saharan African, spanning some 5,000 years of artistic and cultural development. The show's title, The African Origin of Civilization, is a nod to the 1974 book of the same name by Senegalese historian, scientist, and political leader Cheikh Anta Diop, which reprinted some of his earlier French-languae writings and presented them together in English. Diop's scholarship was controversial then and has not become less so over time, but his espousal of a Pan-Africanist philosophy that embraced the continent and its history as a whole was significant as the French colonial era in Africa was drawing to a close, and it reflects a different contemporary perspective that recognizes Africa's transformational influence upon the world.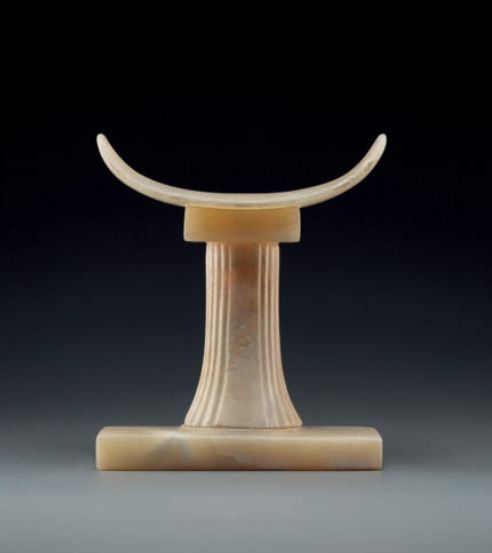 ABOVE: Headrest of Khentika. Old Kingdom, Dynasty 6; Saqqara, Memphite Region, Egypt. C . 2323–2150 BC . Travertine (Egyptian alabaster). H: 19.1 cm . Excavated by the Egyptian Antiquities Service (SAE), 1920–21. Purchased from the Egyptian Government by The Metropolitan Museum of Art, 1926. The Metropolitan Museum of Art, New York, Rogers Fund, 1926, inv. 26.2.11.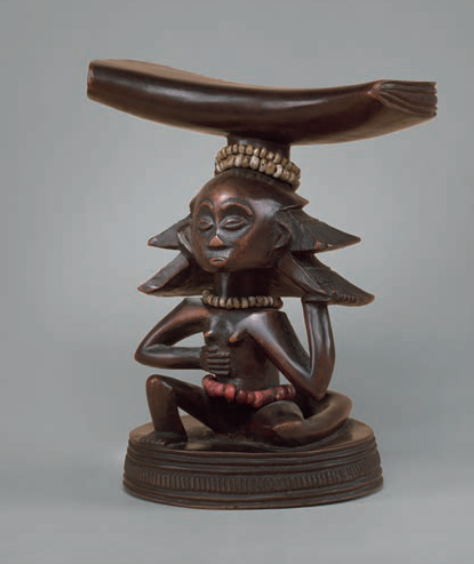 ABOVE: Master of the Cascade Coiffure, female caryatid headrest. Luba; DR Congo. 19th century. Wood, beads. H: 16.2 cm. Collected by Arthur Priest, missionary in Kasai region , before 1908 ; his widow, until 1967; Margaret Barton Plass, Philadelphia, 1967–1981. The Metropolitan M useum of Art, New York, gift of Margaret Barton Plass, in honor of William Fagg, C.M .G., 1981, inv. 1981.399