Shape(s) - the Universe of Forms at Christie's
ABOVE: Mask, gu. Attributed to the Master of Bouaflé
 (c. 1800–1930).

Guro; Côte d'Ivoire.
H: 44 cm.

Ex Edward J. Klejman, Paris; Daniel Hourdé, Paris; Marsha (1923–2013) and Saul (1918–2006) Stanoff Collection, Tarzana, California, acquired in 1983 ; Sotheby's, New York, 17 May 2007, lot 10; private collection, Switzerland, acquired at this sale.

To be offered by Christie's Paris,
on 3 December 2020.
Est. 500,000–600,000 euros.

PARIS—Christie's is facing this particularly difficult fall season with ambition. The announcement of their December 3, 2020, sale attests to that. The auction will feature some seventy lots of African and Oceanic works in about equal proportion and represents an homage to the formal inventiveness and the stylistic diversity these often-anonymous artists displayed. Alexis Maggiar, who recently joined Christie's as the international director of the department of the arts of Africa, Oceania, and the Americas—and to whom we wish well in his new position—explained that the title, Shape(s): The Universe of Forms, was given to this auction because it places emphasis on the sculptural qualities of the pieces, all of which share the characteristics of being hitherto unseen or rediscovered and of being of historical importance.

The selection of works, contributed to by Victor Teodorescu (sales manager and specialist) and Rémy Magusteiro (junior specialist), celebrates the pioneering taste of several exceptional collecting personalities into whose hands the pieces came over the course of their peregrinations outside their original contexts of creation and use. For example, a group of sculptures represents the passion that artist Arman had for the arts of Africa. The gentleness of the lines and the determined expression seen in the Yombe pfemba that is being offered, one of the sale's highlights, attest to the refinement of Arman's judgment, while several Kota reliquary guardian figures from Gabon are evidence of the artist's predilection for these gleaming objects. One of these figures that belonged to Arman was also once owned by Helena Rubinstein, another major figure in the tribal art collecting world. This is a janiform sculpture that until late September was displayed at the Musée du Quai Branly – Jacques Chirac in the exhibition on her collection titled Madame's Collection.

A Guro mask from Côte d'Ivoire by the Master of Bouaflé, formerly in the Rosenthal Collection, the formal purity of which is rivaled only by the serenity of the expression it evinces, will certainly be among the most emblematic works in this sale. The sculpture known as the "Queen of Bougouni," an extraordinary Bamana female figure from Mali with a highly sophisticated coiffure of braids and skillfully rendered volumes, will surely be coveted by many, as will a Papua New Guinea yipwon figure that belonged to Julius Carlebach and was then in the Nelson Rockefeller Collection. Oceania will be particularly well represented with a group of works that includes a Bismarck Archipelago tatanua mask that was formerly the property of collector and pioneer dealer Marie-Ange Saulnier-Ciolkowska, who was active in the immediate post-war period.


Information:
Shape(s): The Universe of Forms
Christie's, Paris
Online Auction
Thursday 3 December 2020 - 4pm (CET)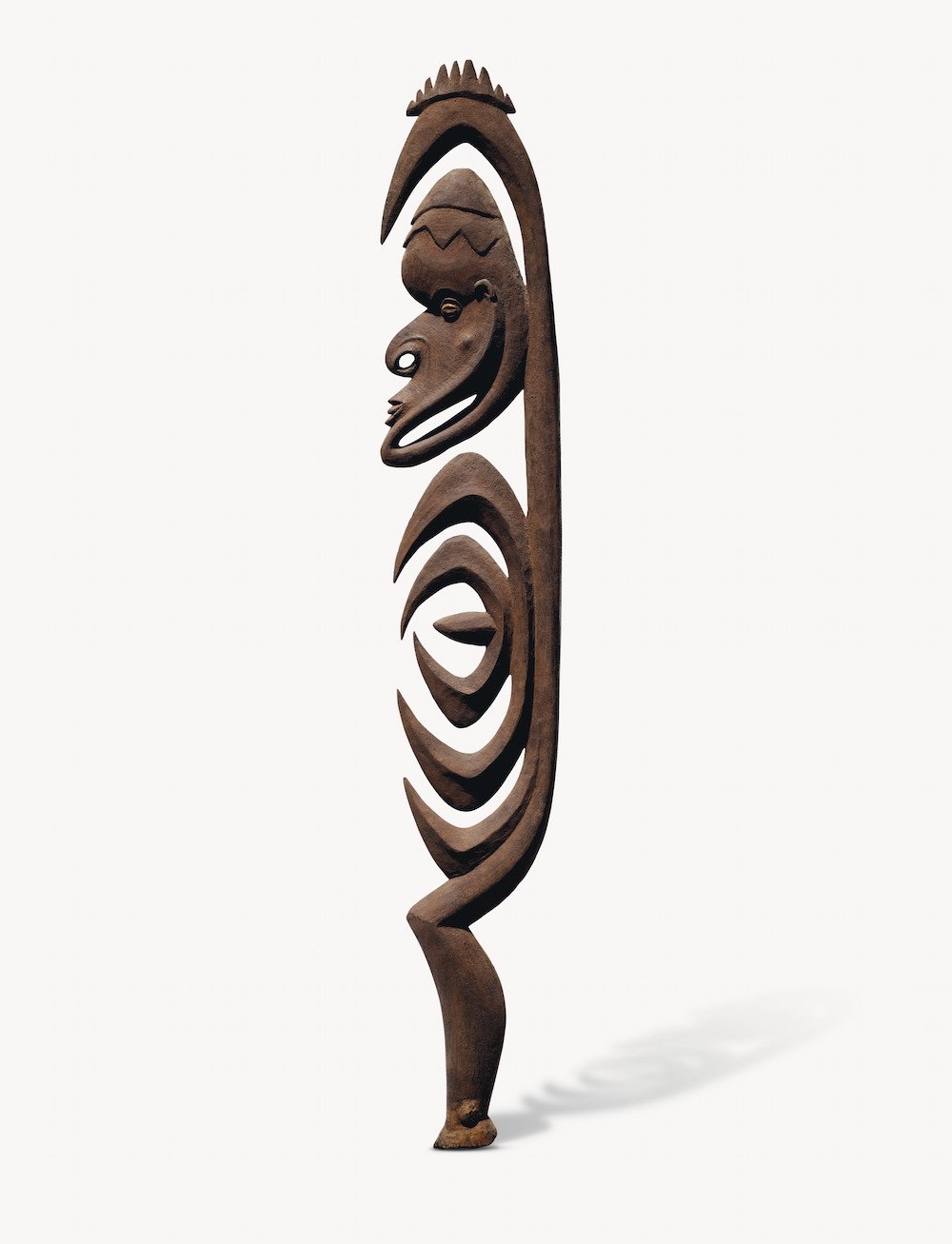 ABOVE: Abstract figure, yipwon. Arambak-Yimam; Middle Sepik, Papua New Guinea.

H: 172 cm.
Ex Ingeborg de Beausacq (1910–2003), New York; Julius Carlebach (1909–1964), New York, in 1958; Nelson Aldrich Rockefeller (1908–1979), New York, in 1959 (inv. 1979.206.1559); Metropolitan Museum of Art, New York.
To be offered by Christie's Paris, on 3 December 2020.
Est. 80,000–120,000 euros.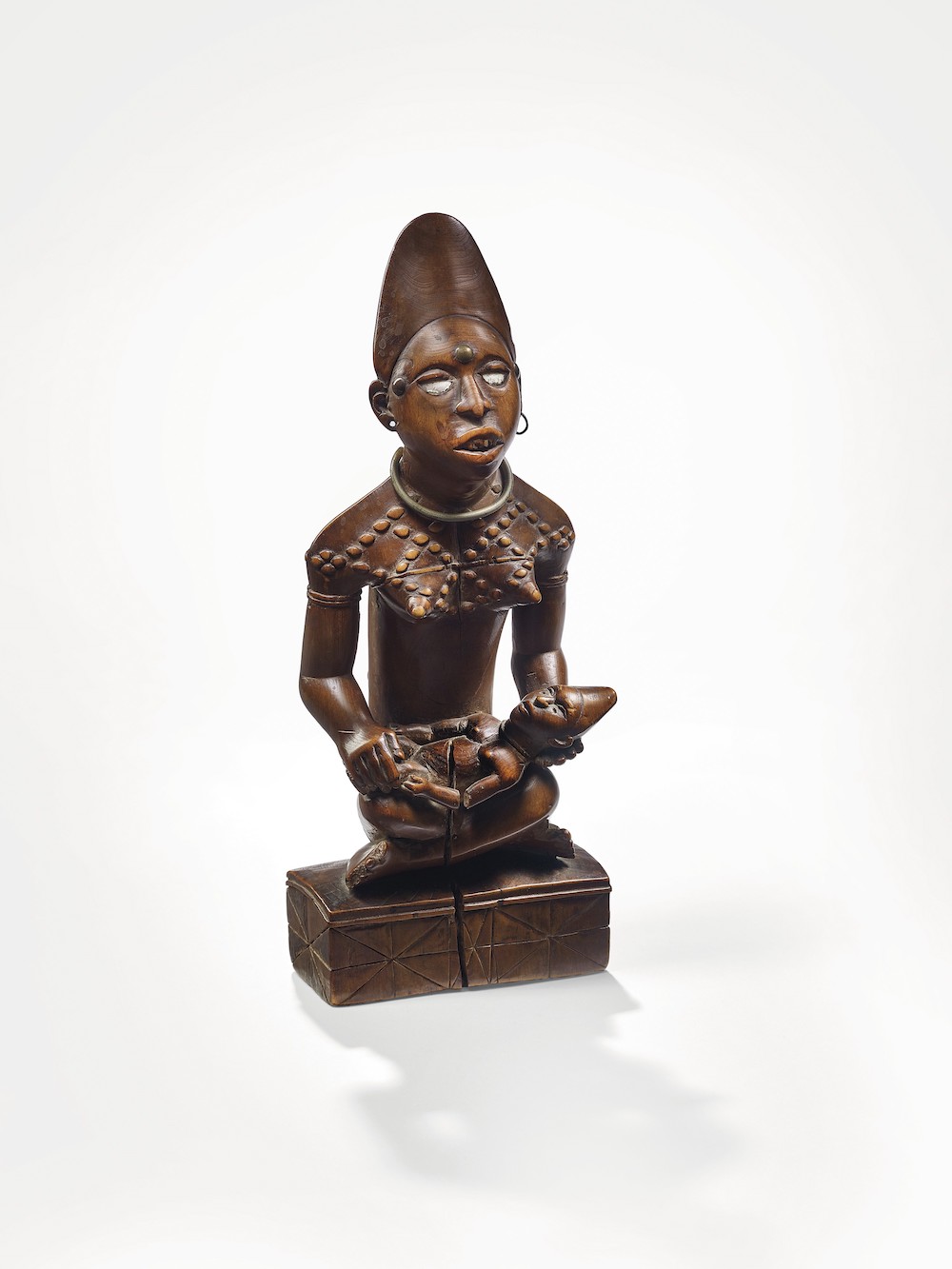 ABOVE: Maternity figure, pfemba. Kongo-Yombe; DR Congo.

H: 33 cm.
Ex Armand Arman (1928–2005), Paris/ Vence/New York, before 1967; The Arman Marital Trust, New York.

To be offered by Christie's Paris, on 3 December 2020.

Est. 350,000–500,000 euros.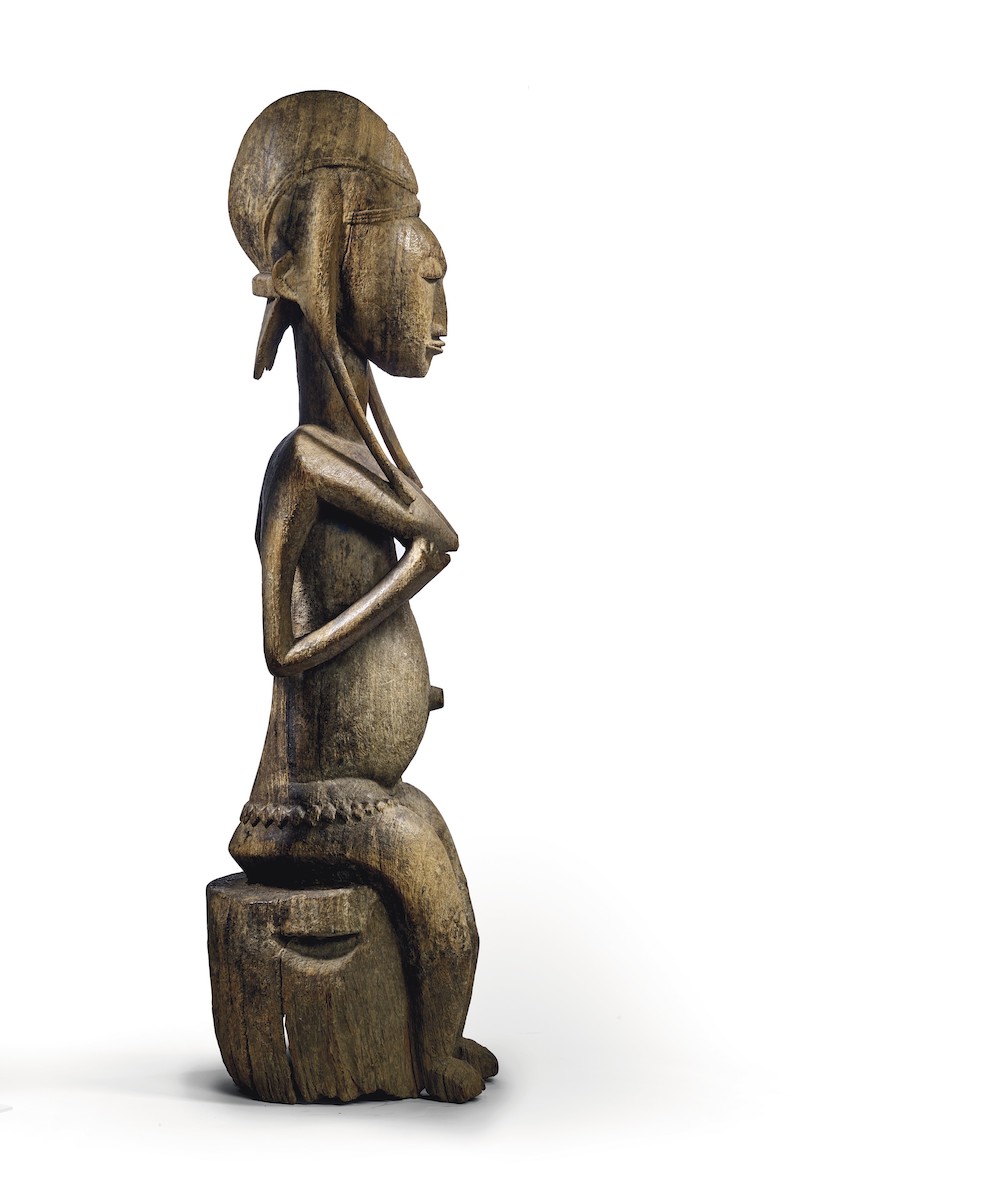 ABOVE: Female figure, gwandusu. Bamana; Mali.
H: 92 cm.

Ex Hélène (Leloup) and Henri Kamer (1931–2019), Paris; private collection, United States, acquired from them in 1957; Hélène Kamer, Paris; Pierrette and Pierre Souleil Collection, France, acquired from them in 1975.

To be offered by Christie's Paris,
on 3 December 2020.
Est. 200,000–300,000 euros.