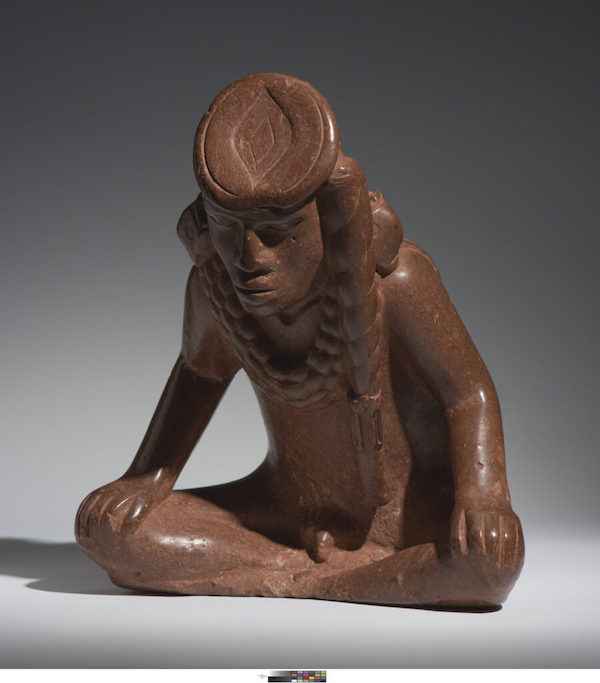 ABOVE: "Effigy Pipe of Seated Male Figure," 1100-1200 CE. Bauxite (flint clay). Le Flore County, Oklahoma, Spiro Site. Photograph by John Lamberton. Image courtesy of the Nelson-Atkins Museum of Art. 47-2-1
BIRMINGHAM—More than 1,000 years ago, Alabama was home to the Mississippian civilization, one of the largest and most important Native American cultures ever to exist. This ancient civilization, also known as the Moundbuilders, created an empire comparable to those of the Aztec, Maya, and Inca cultures, and it was responsible for some of the first ever man-made North American architectural monuments—massive earthen platform mounds. The Mississippian Moundbuilders also produced remarkable works of art, including intricate jewelry, detailed pottery and sculpture, sophisticated weapons, and more.
Lost Realms of the Moundbuilders: Ancient Native Americans of the South and Midwest, showing at the Birmingham Museum of Art October 9, 2021– February 6, 2022, explores the fascinating archaeology and history of the Mississippian Moundbuilders, their religious and ceremonial activities, farming and hunting practices, trade networks, and highly developed social, political, and religious centers. The exhibition highlights the relationships between the historic ceremonial sites and other contemporaneous indigenous communities in North and Central America, and it illustrates how ecological factors, specifically the occurrence of the "Little Ice Age" of approximately AD 1350–1650 may have led to the decline and ultimate abandonment of Moundbuilder sites.
The exhibition features 175 historic objects from four major Mississippian Moundbuilder sites: The Spiro Mounds in Oklahoma, Moundville in Alabama, Etowah Mounds in Georgia, and Cahokia Mounds in East Saint Louis, Illinois. The exhibition also showcases contemporary Indigenous works of art that connect the art and artistry of the Mississippian Moundbuilder peoples to their modern descendants. Lost Realms of the Moundbuilders was originally titled Spiro and the Art of the Mississippian World and was organized by the National Cowboy & Western Heritage Museum, where it was presented earlier this year.
On view until February 6, 2022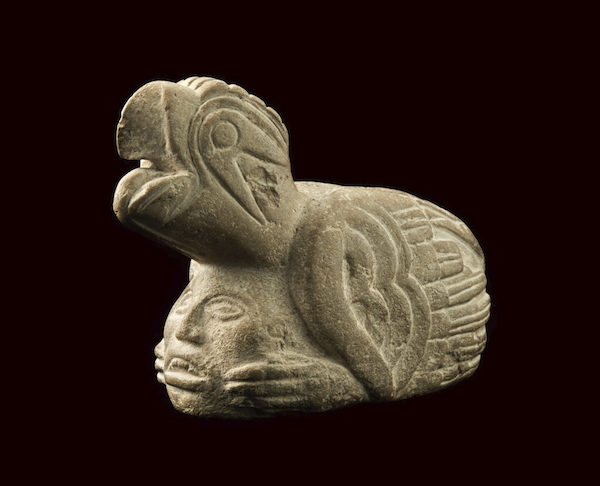 ABOVE: "Raptor with Human Head Effigy Pipe," 1200-1400 C. Stone. Issaquena County, Mississippi, Esperanza Place. Gilcrease Museum, Tulsa, Oklahoma. GM 61.1206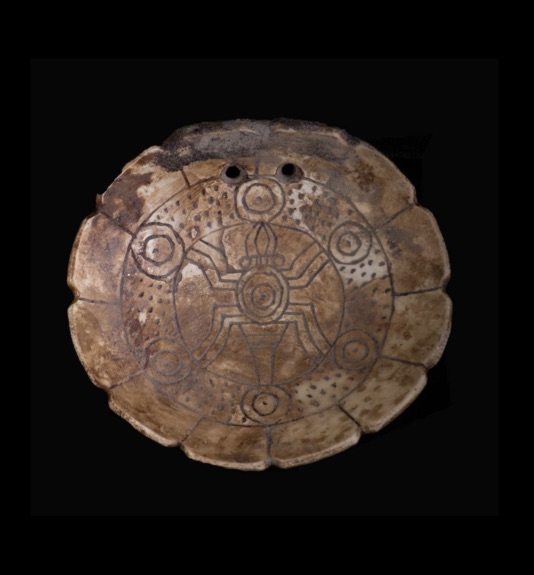 ABOVE: "Engraved Gorget with Spider and Cosmic Motif," 1200-1450 CE. Marine shell. Collection of Dr. John Rahhal